SENSEI
Those who made the road before
Nick Adler
Isshinryu lineage: Tatsuo Shimabukuro > Don Nagle > Ed McGrath > Nick Adler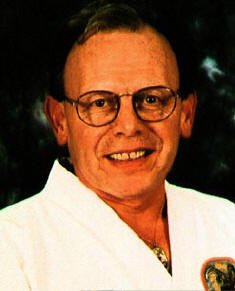 Nick Adler began his Martial Arts training in 1956 receiving rank in both Judo and Jujitsu as well as Okinawan Isshinryu Karate.
From 1962 - 1965 he began his training in Okinawan Isshinryu Karate with Ed McGrath and Mel Sutphen. He continued his training from 1966 with Don Nagle and Angi Uezu. He currently holds the rank of 9th Dan.
He is the director of the Nick Adler's Centurions, a multi school association with branches throughout the country. Shihan Adler is an internationally licensed instructor and graduate of the Long Island University Instructor Certification program. He holds Menkyo Kai from Master Uezu which is the highest license an instructor can award. He holds Kyoshi in Kobudo from the USKA and Renshi in Kobudo from Grandmaster Seikichi Odo.
Taught at the Spring 2003 Long Island University Karate Instructor Program as adjunct professor.
Master Adler has been featured in "Who's who in Isshinryu", "Who's Who in Karate", "Who's Who in American Martial Arts" and "Masters, Founders and Leaders of American Martial Arts". He is listed as "Sensei of the Year" for 1974 and 1980 in Ron Van Clief's books.
In 1981 Adler received S. Henry Cho's All American Award for karate, the same year he became "Man of the Year" in the Ying Yee Hall of Fame. He was elected to the Isshinryu Hall of Fame in Tennessee, as "Instructor of the year" in 1984 and inducted in 1988. Karate International awarded Mr. Adler the "East Coast Pioneer's Award", in 1989.
In 1994 he received special recognition from the AOKA and in 1996 he was inducted into the World Head of Family Sokeship Council Hall of Fame receiving the "Golden Lifetime Achievement" award with 40 years in the martial arts and was the recipient of several awards at Don Nagle's Hall of Fame in September 1997. Shihan Adler was inducted into the OIKKA Hall of Fame on May 1, 1999 in Gettysburg, Pa.