SHADES OF ISSHINRYU
Tatsuo Shimabukuro Family
Kyan, Okinawa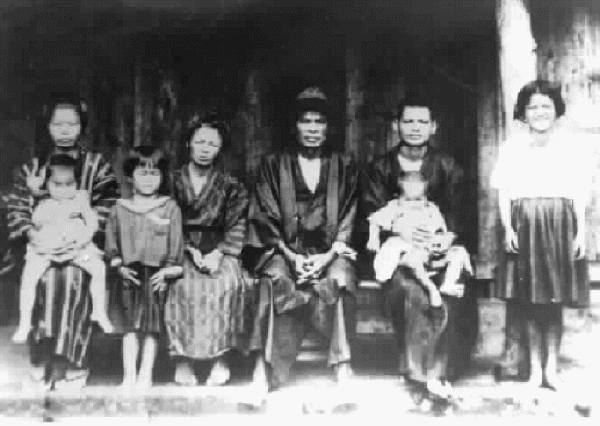 Family picture 1939
(l-r) Uto (Tatsuo's wife) in her arms holding Yukiko (wife of Uezu Angi Sensei), Matsuko (#2 daughter of Sensei), Nabe (mother), Kama (father), Shinkichi (Tatsuo) holding Kichiro, and Haruko (#1 daughter of Sensei)
Born Shinkichi Shimabukuro on September 19, 1908 in the village of Kyan, Okinawa. Why the following information matters at all I do no know but I will add that Kyan can also be spelled Kiyan, sounds like Chun. There was also another village close by that was called Chan Nakaname. In later years the two villages were combined and are now called Kinaka.
Tatsuo, his karate name, meaning Dragon Man, had two sons, both named after his father, #1 son named Kichiro (Shinkichi) and #2 son named Shinsho (Shinkichi), who became a schoolteacher, later a fortuneteller.
Tatsuo also had four daughters, the #1 daughter being Haruko, #2 daughter Matsuko, and #3 daughter named Yukiko, married to Master Angi Uezu. (#4 daughter Hiroko died when she was a baby). It might be interesting to note that Master Angi Uezu acts as protector for Uto, the widow of Tatsuo, and Shinsho, son of Tatsuo. In the scheme of things I believe that this shows quite a bit about true respect for ones Sensei and mentor.