HARRY G. SMITH
(April 19, 1937)
Isshinryu Karate,
Class of 1956
In 1956 Smith was responsible for the apprehension of a high-ranking Air Force Officer who, in a drunken state, ran down two children, killing James Seeger, age 11 and seriously injuring his companion William S. Robinson age 10. This drew the attention of the equivalent of the Marine Corp Internal Affairs and Smith was induced into enlisting in the Marine Corp.
Smith was transferred to Parris Island during a time when recruit abuse was running rampart and in fact, during this time, six Marines were caused to drown in the swamps of Parris Island. Smith was assigned to investigate drill instructors that were mistreating recruits. After completing boot camp three times to support charges, Smith caused seven Drill Instructors to be court-martialed. Smith underwent rigorous martial arts training under the supervision of military instructors. Smith left boot camp and was assigned to Camp Lejune, N. C.
Operation Water Buffalo: Concealed in water holding tanks, Smith supplied Fidel Castro with arms while Castro was hiding in the Escombray Mountains. Castro overthrows Ferdinand Batista in 1959.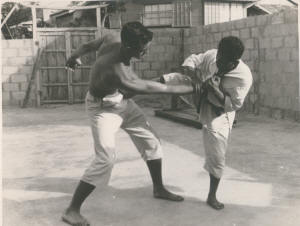 Smith was transferred to Okinawa, Japan where he was introduced to Master Tatsuo Shimabukuro who at that time was just perfecting his new style of karate, Isshinryu. Smith was among the first ten Americans to be allowed to study this style of karate. Smith began his study in the Village of Kyan in December of 1956.
After spending 11 months on Okinawa Smith was given 30 days leave to return to the United States and then returned for a 6-month extension, probably the last time Marines were allowed this extension. Smith was awarded 6th Dan black belt for his exceptional fighting abilities on May 22, 1958.
Smith returned to the United States and opened the first karate school in Pennsylvania in 1959 and one of the first on the East Coast. This school, along with the assistance of Marine Staff Sergeant Richard Keith produced Ralph Lindquist and Jack Sipe. During this time Smith remained under the control of the Federal Government.
In 1961 Smith was assigned to Guantanamo Bay, Cuba, United States military outpost, where he was under the control of Howard Hunt, code name Edwardo, and Frank Sturgis and Roland Martinez, all of Watergate fame. Smith ran armed speedboats called moppies along the coast of Cuba, creating so called dog and pony shows allowing refugees to enter and leave Cuba. This same year Smith was assigned to the ill-fated operation known as the Bay of Pigs invasion, Blue Beach and Brigade 2506. The operation failed, Smith was captured and held at "La Cabana," Cuba's prison famed for its firing wall. Smith was later released in exchange for medical supplies. Operation was called "THE FISH IS RED" because on a map Cuba looks like a fish.
From 1962 to 1964 Smith opened a karate school in Pittsburgh where he trained William Duessel, Harry Acklin, Joe Pennywell, and many other exceptional fighters, all of whom were promoted to Shodan. During this time Smith also operated the Academy of Isshinryu Karate in Harrisburg, which produced George Dillman, George Iberyl, again Ralph Lindquist, Gene Powell and many others.
In 1964 Smith hosted the first Pittsburgh Karate Tournament attended by Zenpo Shimabuku, Walter Dailey, Harold Long, Art Smiley, Harry Acklin and William Duessel. This year Smith was awarded 7th Dan by the United States Karate Association and 10th Dan by Edward Parker, Master of Kenpo Karate.
In 1964 Smith became operational and was sent to work at a Jeep Rover dealership in Durban, South Africa where Smith worked as an auto body mechanic and also reported the actions of the owner, Mike Hoare to the United States. Hoare owned the dealership but also headed the Katanga mercenaries, the Five Commando, better known as the "WILD GEESE" who then operated in the known Belgian Congo, now called Zaire. Hoare seduced Smith with a red MGB, later found out to be stolen from the CEO of Didi Oil Refinery, which later broke down on the road to Mungbere, and Smith joined the Five Commando which was instrumental in freeing hostages that the United States left behind during Operation Dragon Rouge. Stanleyville, Mungbere, Wamba and the Didi Oil Refinery were being held hostage by rebel troops called "Simbas" headed by Colonel Olenga, a former trolley conductor.
As of this writing the Belgian Congo (Zaire) is undergoing the exact same type of uprising that were designed to get rid of the powers that were put in place on New Years Eve 1965.
1965 found Smith reenlisted once more in the Marine Corp where he was transferred to the Fifth Marine Division, and from there to the C.O.R.D.S. training compound at Fort Holabird, Maryland, home of the Phung Hoang Dong Tien training program, later known as Phoenix.
Transferred to 1st Hospital Company at Chulai Vietnam, Smith acted as a bodyguard for the nurses stationed there. While at Chulai, Smith was awarded the Bronze Star and Purple Heart by Major General Lewis J. Fields. While in convalescence Smith was transferred back to Okinawa to train at the Mac/Sog Compound at Naha under the supervision of Tatsuo Shimabukuro.
Smith was then transferred to the First Force Recon, First Marine Division, then to COMUS/SOG, Canlo, Vietnam. He began a rotating training program where, every three months, he returned to Okinawa for training, all under the control of Tatsuo Shimabukuro and Eiko Kaneshi.
In the end, Smith was transferred to the Embassy House, Canlo, Vietnam, supervised by Station Chief William Colby, stationed at Ton Son Naught and Senator Neil Gallagher. Senator Gallagher was chair of the Asian and Pacific Affairs Subcommittee and held an interest in the war in Vietnam.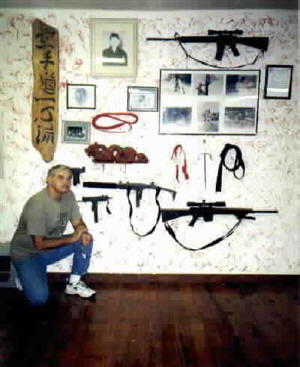 United States government made Smith's rank awarded by Shimabukuro a part of his permanent record in 1976. The United States government also added their evaluation of Smith to 10th Dan. Smith negates this, as his feelings are that there can only be one 10th Dan in a system. In 1994 Master Angi Uezu, head of the Okinawan Isshinryu Karate-do Association ranked Smith as high as he could in that organization, 8th Dan. On March 9, 2003 Master Angi Uezu ranked Smith, 9th Dan.
In the early 1980's Smith returned to Hilton, Natal, South Africa and joined the "Wild Geese" in an attempt to overthrow the government of the Seychelles Islands, an island off the East Coast of Africa, of which Mike Hoare and Senator Neil Gallagher had an interest in. The mission failed, most were imprisoned, but the South African government pardoned all.
Smith was inducted in the Pennsylvania Karate Hall of Fame on December 3, 1994 and the Okinawan Isshinryu Karate Hall of Fame on May 2, 1998 and on June 26, 1999 was inducted into the World Karate Union Hall of Fame. On December 29, 2000 the American Okinawan Karate Association's Hall of Fame awarded Smith the Life Achievement Award and the Pioneer Award.
Smith now heads the Guardian Karate Institute in Hershey, Lemoyne, and Elizabethville, PA.
H.G. Smith is the most senior Isshinryu practitioner in the world, exceeding that of both Kichiro Shimabuku, son of Isshinryu's founder and Angi Uezu, son-in-law of Isshinryu's founder, both of Okinawa, Japan. It must be, with this last statement, notice taken that H.G. Smith does not lay claim to any rank higher than both Kichiro Shimabuku or Angi Uezu, nor does he consider himself senior to either. His feelings are that he will always walk beside them, but never behind.
In closing, with rank in Isshinryu being what is, H.G. Smith has always worn a black belt, never red.