ARTICLES & COMMENTS
OKINAWA TIMES NEWSPAPER
September 16, 1964
© 2006 Article and translation: Henk Goslinga, www.shimabuku.com
NEWSPAPER COURTESY OF DICK KEITH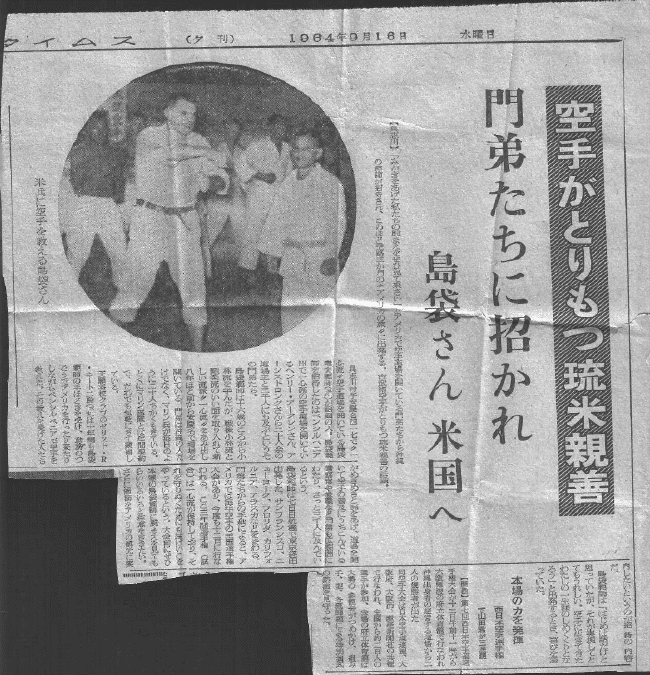 {Okinawa} Times (Evening edition) September 16, 1964 Wednesday
Karate stimulates friendship ties between the Ryukyu and America
Shimabukuro on invitation from students to America

[Gushikawa] On invititation of his students, who run karate-dojo in America and who wanted to show their technical progress, a karate master from Okinawa recently traveled for three months by airplane to America. About how the old martial arts friendship ties between Ryukyu and America stimulates.
[PICTURE]
Shimabukuro teaches karate lessons to American soldiers
Master Tatsuo Shimabukuro (56), who has an Isshinryu karate dojo in Gushikawa-mura, Aza Agena 417, is the talk of the day. Master Shimabukuro has been invited by twenty dojo owners from Pennsylvania, amongst them Harry Acklin, Armstrong and many others, and their three thousand students.
Master Shimabukuro, who has been studying Shorinryu since his sixteenth year, but who after the war founded his new style Isshinryu by combining the good aspects of Shorinryu and Gojuryu, already has a dojo in Agena for eight years. His students are not only from Okinawa, but also almost every day about twenty marines visit his dojo. Because of the fact that the Marine Corps have a yearly contract, the marines can train freely.
R. Keith (37) of the Tengan Officer's Club, who learned the basic principles of Master Shimabukuro for almost 10 years, taught karate lessons in Pennsylvania while he traveled for his work between America and Okinawa. His students, who made great progress, are from every part of society; both police officers and school teachers who give their best to spread karate, have started their own dojo. The total amount of students are estimately 3000.
Master Shimabukuro departed from Tokio on the 7th with Japan Airlines. Amongst other places, he will travel to San Francisco, New York, Florida, California and Alaska. According to a letter of his students there is held a yearly national karate championship in America. This year the championship will take place in December. The last three years the fights on the championship were dominated by by Isshinryu, and there has been told that there has been trained fiercely to held this position. The students are eager to show their techniques, before the championship, to the founder of the style, Master Shimabukuro, and to ask for his advice. Also the students have invited their Master to show him America.
'At first I thought that these were only words, but I am very happy that at last this has been realized. This will be the crown on my life, a life that is totally admitted to karate', a pleased Master Shimabukuro says at his departure.
NEWSPAPER COURTESY OF DICK KEITH
© 2006 Article and translation: Henk Goslinga, www.shimabuku.com