ARTICLES & COMMENTS
Gunnery Sgt. Richard (Dick) Keith
Original Isshinryu Karate Student of Tatsuo Shimabukuro 1957-58
by Henk Goslinga
Camp Courtney
Tatsuo Shimabukuro started teaching American soldiers beginning in 1955 in the backyard of his house in Kiyan. Most of them were US Marines of the 3rd Marine Division stationed in Camp Courtney. Camp Courtney, initially called by its original name Camp Tengan, was officially opened in January 1956, and was located in Gushikawa village, Okinawa, Japan.
New Agena Dojo
The numbers of American students increased and Tatsuo build a new dojo at Agena early 1957. Not only creating more space to teach his new style of karate (the Isshinryu style of karate was officially founded January 1956), but also located nearer to Camp Courtney. The first generation American students of the Kiyan dojo helped him by constructing the wall around the new Agena dojo.
Marines Recruitment Photo 1958
Gunnery Sgt. Richard Keith
This article is about Gunnery Sgt. Richard Keith, born December 25, 1929. Probably one of the first twenty American students of Tatsuo Shimabukuro, and one of the few Americans who were awarded a 6th dan diploma in silk in 1958.
Dick Keith & Harold Long
Mid 1957 Sergeants Richard (Dick) Keith and Harold Long arrived at Camp Courtney. They both immediately went out to find a Judo or JuJitsu school. They asked local Okinawans and found Tatsuo Shimabukuro's newly founded Agena dojo, which was in walking distance of the base. They never had heard of karate, but started in at it. The lessons were at the evenings, 5 days a week, and lasted 2.5 to 3.5 hours. At Saturday and Sunday all day. After basics they were taught kata, beginning with Seisan. They were taught approximately one kata a month. The senior students (Marines) helped them with the kata when they first got there, one of them was Art Smiley.
Photo 1958: (l-r) Tatsuo Shimabukuro, Dick Keith and Harold Long
The 'old man'
The 'old man' (as Dick Keith calls Tatsuo) was a great teacher, who hardly could speak English. Tatsuo was a very strong man. Keith remembers watching Tatsuo going up a 20' pole and coming head down first.

Dick Keith remembers Tatsuo's sons, Kichiro and Shinsho. He did not train with Kichiro, but remembers how Shinsho, Tatsuo's younger son, as a teenager did much of the training of the marines. The year Dick studied in karate with Tatsuo not many new students came in, maybe 5-10 students.

He felt that Shimabuku liked him a lot. The 'old man' would take him out and go drinking. Tatsuo enjoyed drinking and commanded much respect when he went into local bars. Tatsuo spoke little to no English at all and they communicated as best they could.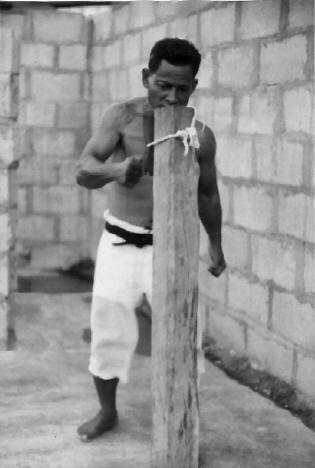 Tatsuo Shimabukuro working at makiwara
photo taken by Dick Keith in 1958
6th dan silk diplomas
When Dick Keith and Harold Long left Okinawa mid 1958 they received their black belts and were awarded 6th dan silk diplomas both in English and Japanese. They were told if they took what they knew and trained hard for 10 years and taught others, then at that point they would have earned their diplomas and sixth degree rank.
Hand made sai
Dick Keith had a set of hand made Sai that were made on Okinawa to fit him. They were much larger than the ones the Okinawans used. The sai was to fit when cradled in the web of your thumb, the tip was at your elbow.
Back to the USA: Dick Keith & Harry Smith
Gunnery Sergeant Keith was transferred to Harrisburg, PA as a Marine recruiter. Harry Smith lived nearby. One day Dick Keith called Harry Smith, whom he remembered from Okinawa and who lived nearby, and invited him for dinner. Together they thought up the idea of teaching Isshinryu and how to attract students. They held a meeting at the local YMCA and together opened their first dojo in a place called Hall Manor, Harrisburg PA. in 1959. They did not realize it than, but later this appeared to be the first Isshinryu dojo outside of Okinawa open to the public. (Before them Don Nagle was the first to open an Isshinryu dojo in the USA ever, mid 1957 together with Ernie Cates, but this was at its starting date open to Marines only.)
Jack Sipe
Differences in opinion between Dick Keith and Harry Smith on focusing on fighting or kata, made them split. Dick Keith took Jack Sipe, student of both Harry Smith and himself, with him. Jack Sipe was awarded his Shodan (black belt) in September 1962. Sipe trained with Tatsuo Shimabukuro during his visits to the US in 1964 and 1966. He opened his first commercial dojo in 1965. He received a considerable amount of instruction of Angi Uezu, starting in 1967, who was his guest at his home in numerous occasions. Jack Sipe's dojo was the root of many dojo in Pennsylvania.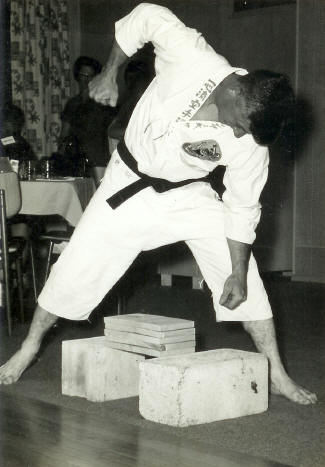 Photo: Jack Sipe
2nd Tour to Okinawa
Dick Keith left for a second tour to Okinawa in 1963 and 1964 and quit teaching. He still worked out kata occasionally. Although he did not train his second tour on Okinawa, he had regular contact with Tatsuo Shimabukuro. When Tatsuo visited the US in 1964 he wrote Keith a personal hand written letter, which was sent from the US to Okinawa, Japan.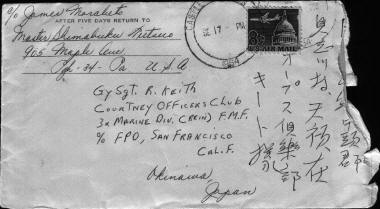 Dick Keith's legacy
Sergeant Keith never tried to get anything from his martial arts past and never joined any of the Isshinryu organizations. He chooses for a career in the military. Through Jack Sipe he passed on the teachings of Tatsuo Shimabukuro. Jack Sipe carried on the tradition of his teacher Dick Keith and is also a very humble and genuine gentleman.
This article is based on interviews I had with Dick Keith by email, with the assistance of his son Brian, in April 2006. All pictures and documents used in this article are courtesy of Dick Keith.
more:
>Tatsuo's handwritten letter to Dick Keith 1964
>Newspaper article Okinawa Times 1964
>Photos taken by Dick Keith on Okinawa 1957-58
>Dick Keith's original Okinawan Gi and Obi

Copyright © 2006 Henk Goslinga / www.shimabuku.com